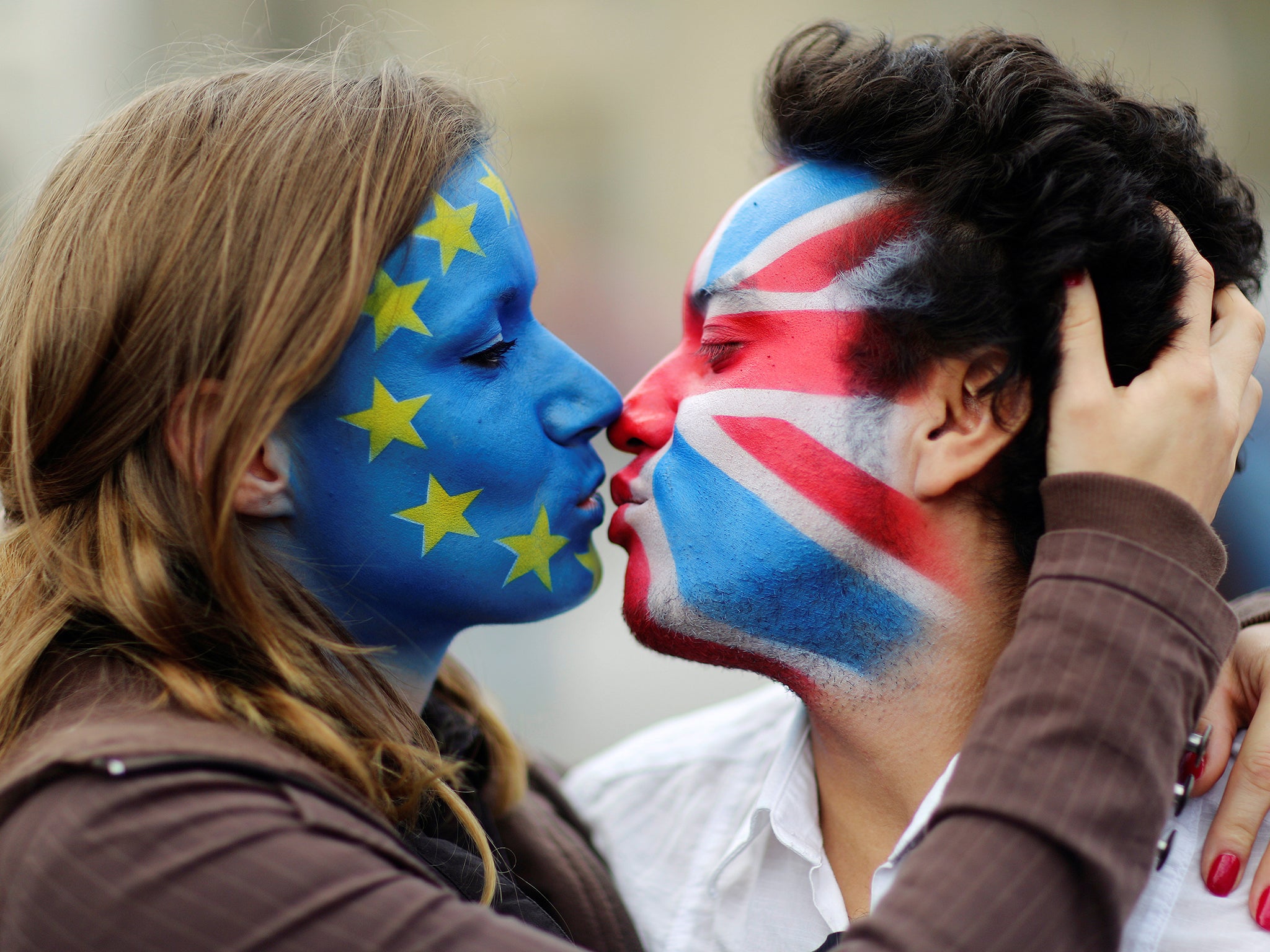 "So, mummy, are you going to change your name now? You know, to something more English?" My daughter asked me this, in all innocence. I think that was the moment that I realised how devastating the recent conversations about immigration in this country had been for me.
We were in the car driving back from swimming lessons, and had just picked up some fish and chips - appropriately enough - to celebrate the fact that I had passed my "Life in the UK test", part of the long process of applying for British citizenship. The children had been very involved in the project, helping quiz me on historical dates, and putting up with piles of paperwork accumulating on the kitchen table.
I am not sure any of us really understood what "becoming British" really meant. My husband had joked that I would now have to start liking Marmite and re-runs of Morecambe and Wise - comments that fell curiously flat with me. And now I understand why. Becoming British seems - to everyone else - to mean erasing something essential about myself.
"No darling, I am not going to change my name," I said, trying to keep the tone light.
"But wouldn't it be, you know, easier?" my daughter persisted.
Easier for whom, I wondered. But I didn't say that. I laughed and said that Britain has a plethora of odd names from Angharad to Zainab and if people can cope with those they can handle mine as part of the mix.
But the truth is I am angry. And very hurt. The day after the Brexit vote I took my children to school as normal, and smiled, and helped the PTA set up a stall at a local community fair. I stood and sold raffle tickets and smiled at people all day and wondered about each one of them if they too wanted to rid the country of foreigners like me.
I heard a lot of people tell me that it will be fine, to not worry. But I am not fine about it. Not at all.
Somebody referred to me as an "EU migrant" the other day. I've lived in this country for 24 years. I thought about how, last year, he might have referred to me as his neighbour. Or a fellow commuter. Or a volunteer. Or a mother of three. Or maybe even "that annoying short woman". But now he has reduced me to this two-word description. It diminishes us both.
"Oh we don't mean you," is another phrase I hear. That doesn't make me feel better. It is the modern equivalent of saying "some of my best friends are black". When people talk about the need to control immigration they are, I imagine, thinking about the homeless, toothless Romanian guy begging on the street. Whereas I am - presumably - ok because I am white, employed, and can speak English well.
But where does the line between me and the Romanian guy go? At what point would I stop being acceptable? If I lost my job? If I became ill? If my accent was thicker? Just how many grammatical mistakes would it take to put me over the line? Because there is a line, now. We need to talk about the line.
The whole discussion of immigration policy post-Brexit has been profoundly dehumanising. I've heard the argument made over and over again that white working class communities have a right to feel angry, to feel like they want to "take back control". I'm not dismissing their feelings. But this is what it feels like to be on the other side of that rhetoric.
Take the idea, for example, that Britain would still want to allow the "brightest and the best" immigrants in. Great. But who decides the criteria for brightest and best? It is still reducing people down to the job they do or their IQ. And now, thanks to the snap election, I get to hear these discussions nearly every day on some TV debate or radio phone in show. Just how many should be allowed to stay and who should go, like we were so many sheep that were being separated out for the slaughterhouse.
There is already a sense, among immigrants in the UK, that we must somehow justify our existence here. When EU citizens call into radio shows or write into newspapers, notice how they are at pains to tell you about their contribution to Britain. "I have paid taxes all my life and never claimed a penny in benefits" "I employ 25 people" "I give blood" "I volunteer with Macmillan." Look at how - right at the beginning of this piece - I told you about my involvement with the PTA. British people don't have to go around reciting the list of their merits before they are allowed to speak.
It is ironic to be applying for British citizenship at a time I feel less connected to this country than ever before. I sat in a local council office, a few months ago, and laid out my whole life - from my marriage certificate to my university degree and pay slips - in front of the official checking my naturalisation application. When she left to go photocopy everything - and this took some time as there was a good kilo or more of paper there - I was left in the room staring at a large portrait of the queen and the British flag. The flag was a very muscular thing, the kind that is stitched together in thick canvas, not the flag of garden parties and bunting, but a flag for the battlefield. It made me think about Britain's blood-soaked history, slavery, colonial conquest, war, which isn't taught in schools very well. It is all very well to be a patriot, but that comes with a heavy responsibility, too, and a death toll. It isn't something I take on lightly.
I always imagined, if I applied for citizenship, that I would do so in a wave of good feeling for the country, but instead, this feels like a marriage of convenience. That is the worst thing about the immigration discussion. It is making me dislike the country that I once loved so much that I left my own roots behind to integrate myself here.
And yes, I know that not everyone dislikes foreigners here. But what hurts more than blatant xenophobia is the silence of friends.
Why bother going for citizenship? Pray that you are never forced to investigate the intricacies of immigration law, which is always much more complex than you'd expect. Yes, EU citizens who have lived here for five years can apply for permanent residence, but only if they fit certain criteria. If you have been a student or not working for any of that time - say if you took a few years out to stay home with children - you need to have had comprehensive sickness insurance covering that time, otherwise you do not qualify for permanent residence. Few people knew about this. It was brought in quietly in 2006 and few of those already in the country would have been alerted to the change. Insurance companies themselves don't really know what "comprehensive sickness insurance" means. It is catching a huge number of stay-at-home mothers and carers who now find themselves ineligible. I know of one mother who is a full-time carer to her two disabled children - British children - who has no hope of getting permanent residence under the current system.
"If I have to leave the country, who is going to look after them?" she asks.
Human rights law might, of course, prevent families from being split up in this cruel way. But Britain is keen to ditch the European Convention on Human Rights, too, so who knows?
Permanent residence isn't really worth much as a guarantee anyway. If you lose it if you leave the country for more than two years - for example if your company posted you abroad, or you went back to your home country to nurse a sick parent. Then you start again from zero, as if you had never lived in the UK at all.
The blind faith that "oh, you are married to a Brit so you will be fine" also doesn't hold. The rules are already pretty unsympathetic if a Brit is married to someone from outside the EU. The UK only allows foreign spouses into the country if their British partner earns more than £18,600. We may move to something similar for EU spouses after Brexit. My husband earns enough to be above this level, but I'm not complacent. What if he became ill and unable to work? What if he had to take early retirement? It is a rule that pretty unashamedly makes a divide between rich and poor, again reducing people to the sum of their bank balance.
Once I looked into it I realised that nothing would really give me security in the UK except citizenship.
It is not that I am expecting mass deportations of EU citizens, just that ordinary life will slowly, drip by drip, be made harder. Already institutions such as schools and hospitals are asking questions about people with foreign-sounding names. My daughter's question about whether I plan to change my name is not a ridiculous one.
Most EU citizens I know here are angry or depressed. I belong to a few forums for the 3m EU citizens in the country - these have been useful for getting advice on the complex citizenship forms for example. But what I increasingly see there is a sense of despair. You could roughly divide the 3m into two camps. There is the "Ciao, adios I'm gone" brigade who are already planning to leave with two fingers up. "If I'm not wanted here I'll go somewhere where I am appreciated," is the attitude. These people are generally young and highly skilled and can move easily.
Then there are those who are too deeply embedded, who have children and spouses here, who can't uproot themselves as easily. For them the past year has been one of complex feelings, a bit like realising you are in an unhappy relationship. Do you stay for the sake of the children? Can you afford to leave? Is the love you once felt something that can be rekindled or is it gone forever?